ECMC 25 år 1999
Artikkelen er opprinnelig trykket i Blikk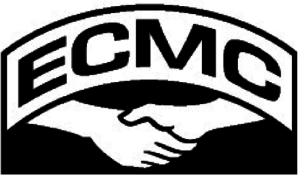 Av Svein Skeid
Du har sikkert sett dem på byen med skinnjakker og ECMC-merket på skulderen. Håndtrykket symboliserer kameratskap, respekt og gjensidige avtaler mellom samtykkende voksne homofile menn. Eller du er kanskje selv en av europas 5000 lærfyrer som kan nyte godt av gjestfriheten i femti ikke-kommersielle lærklubber spredt over femten europeiske land.
ECMC eller European Confederation of Motorcycle Clubs ble stiftet i London 19. januar 1974 i kjølvannet av sekstitallets homofrigjøring. De nordiske SLM-klubbene med over en tredel av ECMCs medlemmer bak seg innehar for tiden ECMCs sekretariat lokalisert i København.
Ja, du går jo ikke på SLM med småsko og blomstret skjorte. Dresskoden er felles over hele Europa: lær, gummi, jeans eller uniform. Det betyr de fleste varianter innen den maskuline sjanger. Skinheads er etterhvert blitt mote og variasjonen kan være stor blant gummifolket med hele dykkerdrakter i orange og rødt eller åletrange drakter i alle regnbuens farger.
De kaller seg gay-skinhead. For ikke å forveksles med naziskinheads har ECMC etter norsk initiativ klare vedtekter mot rasistiske og nazistiske holdninger, ytringer, handlinger og medlemsskap i slike udemokratiske organisasjoner.
Etter norsk initiativ vedtok ECMCs årsmøte i 1996 at sammenslutningen også skal kunne arbeide seksualpolitisk for å fjerne sykdomsstempling og annen diskriminering som hindrer lærhomoers menneskerettigheter. I Norge koordineres dette arbeidet av Landsforeningen for Lesbisk og Homofil frigjøring som i sitt arbeidsprogram uttaler at grupper som butch, skruller, lær- og sm-homoer er en ressurs for LLH.
ECMC driver via sine regionale underavdelinger også et omfattende hivforebyggende arbeid, blant annet koordineres utgivelsen av heftet "Sikrere sex for lærhomser" som kom på norsk i 1991 som den første av sitt slag i Norden. Brosjyren er senere utgitt i de fleste europeiske land, hvorav svært mange med støtte fra vedkommende lands helsemyndigheter. Brosjyren er svært ressursorientert i det den fokuserer på de mange muligheter som lær/fetisj/sm bærer i seg for sikrere sex uten fare for hiv-smitte eller andre seksuelt overførbare sykdommer.
Participants in the ReviseF65 group in 1996 promoted the democratic revision of the rules and policy of the gay leather umbrella organization "European Confederation of Motorcycle Clubs", ECMC, so as to address issues of sexual politics and anti nazi-stand. In 2000 the more than 50 ECMC member clubs, following a proposal by SLM-Oslo, decided to support the Revise F65 effort.

ECMC-logoens håndtrykk (bilde over) symboliserer kameratskap, respekt og gjensidige avtaler mellom samtykkende voksne homofile menn.
SLM Oslo trakk seg fra ECMC-samarbeidet etter vedtak på generalforsamling (ca 2015?).